Self-Care ideas can including listening to music, journaling, taking a walk, drinking a lot of water, reading a new book, baking, shopping, traveling, gardening, coloring, yoga, meditation, and more. It is important to give our bodies and minds a break from time to time, in order to relax, find peace, and remain calm. Stressful situations may lead to frustration or anxiety, so it is vital to take time out of your day, every day, to focus on something small but simple!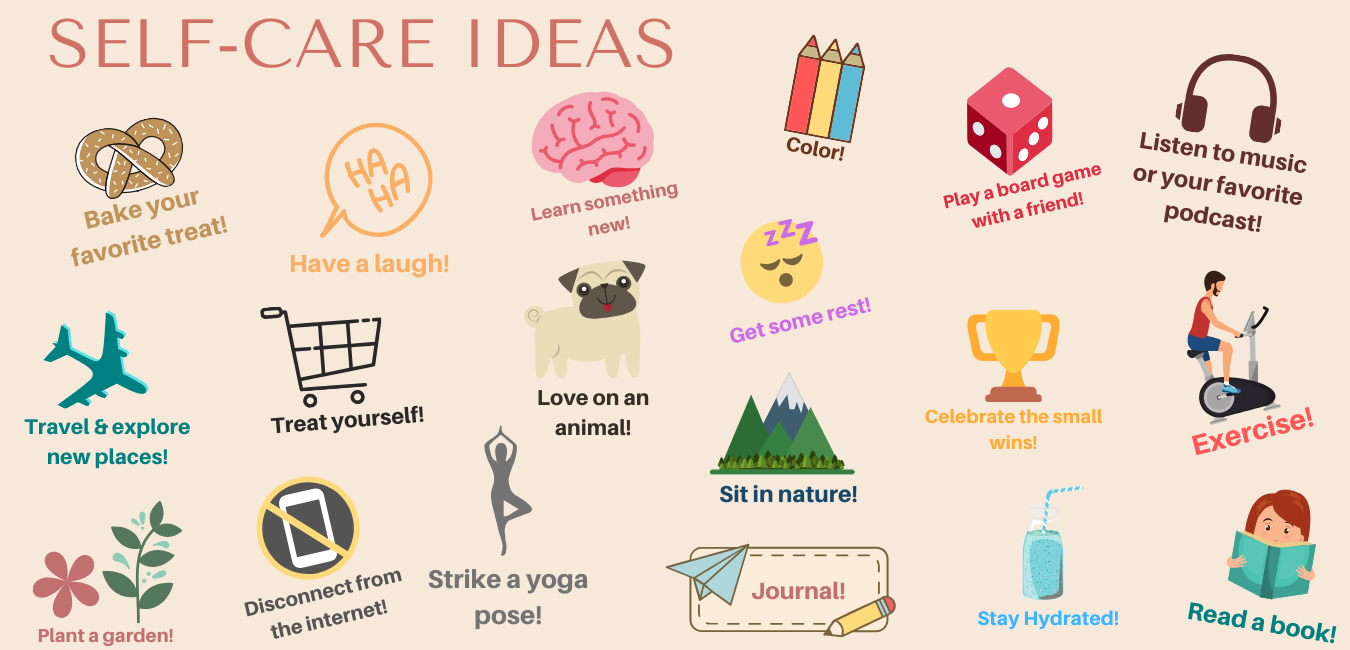 An important form of self-care includes: Meditation!
Meditation can give you senses of calm, peace and, balance that can benefit your life. Meditation allows headspace to clear out and have yourself focusing on your breathing and becoming mindful. Meditation is not as easy as it looks; it requires a lot of practice, patience, and calmness. Meditation can be down in a group setting or alone. You may do whatever you feel most comfortable: lighting candles, listening to quiet/calming music, on the beach or in your room! Meditation is all about comfortability. Everything is up to you.
Having trouble staying focused? Take a break! In order to reach an inner level inside you, find that peace and serenity, but you will not find it by being distracted and trying to force meditation when your mind is wandering. Closing your eyes and focusing on your breathing are vital in meditation. It is a way to remain peaceful and calm your thoughts. After a stressful day or to even begin your day, sit down and breathe in and our for several minutes. If your mind is wandering or you find yourself thinking of everything you have to do… you're doing it wrong! Clear your head and be mindful of what you are thinking about.
Practicing self-care and taking time for yourself is not selfish, in fact, it is the best thing for you! Besides meditation, there are other ways to practice self-care. Finding hobbies, doing things you used to love, or learning something new are all forms of self-care.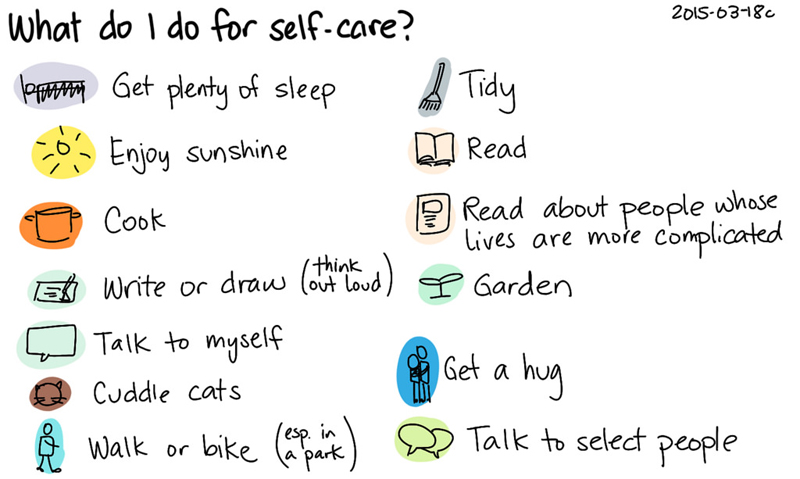 Journaling can help you get your thoughts out of your mind and on to paper!
Going for a walk will count as exercise as well as taking in the sunshine and nice weather!
Talking to a friend will allow you to catch up and learn things about and from them.
Taking a bath or shower will calm your body. Use body lotions, creams, and scrub with sweet scents that bring calmness.. such as floral scents, honey, lemon, or vanilla.
Reflecting and journaling are great ideas to de-stress. It is important to let go of current anger or any frustrations in order to fully let go and move on. Feelings come in waves. One moment you could be happy and dancing to your favorite songs, and then the next moment you could be crying on the bathroom floor. It is crucial for your life and your well-being to always do what is best for you. Self-care is not selfish. Putting yourself and your needs first is vital to living a happy and healthy life. Venting, ranting, talking, or writing about your problems or feelings will release that inner battle you are fighting and it will allow more opportunities to become part of your life.
More activities to try:
-Cook your favorite meal or a great dessert
-Workout or try some yoga to relax
-Watch a movie you used to love but have no seen in awhile
-Write a letter to your future self or your future kids on where you are in your life right now
There are so many different things to try when feeling down. It is okay to be stressed, sad, or having feelings of anger or frustration. Feeling is healing. Feel it all and then let it go. Work through it and watch how your life changes.
Self-Care is not hard… because it is all about YOU. You get to decide what you want, who you want to be, and the kind of life you deserve to be living.
Start by doing something once a day make a list for the week to get tasks done!
Monday is the start of the new week so pick something to raise your energy. How you start the week will reflect on how you feel for the rest of the week.
Self-Care is more than just lighting candles or taking a hot bath. It is about how you feel about yourself.
It is important to find things that interest you and benefit you the most. If a friend practices self-care by exercising, meditation or by praying but none of that interests you, that is normal and totally okay. Explore new hobbies like writing, walking, cooking, setting goals, planning your future or begin a project. Self-care is also about self-exploration. Find and do what makes you happy.
When you find things that make you happy, you allow yourself to let go of everything holding you back.
Practicing self-care also teaches yourself how to love yourself. The way you take time out of your day or week to find and do things that you love shows yourself that you are willing to go the distance in order to make sure your happiness is being fulfilled.
It is crucial to practice self-care. There are certain times in our life where things can be overwhelming, and we are not sure what to do. What we can do is take a step back and believe that we are capable of overcoming anything. Taking time out of your day or even week it important to do something that relaxes you. Whether it is taking a longer shower, going for a walk, waking up early to do yoga, or learning something new, every little thing goes a long distance. Your life is your choice and by living freely and in the moment, your happiness will find its way back to you.