One of the largest attraction to people to visit National Parks are the available hiking trails. National Parks contain some of the best manicured and developed hiking trails throughout the country. People visit and hike at National Parks for many reasons such as great exercise, cost-effective trips, and the ability to enjoy nature that is not available in most places in the country.
– Explore
– Cheap Costs
– Equipment
Explore
There are 61 National Parks and 417 National Parks properties, these different parks are federally owned lands that are protected to conserve the local environment. Without these lands becoming protected they would have most likely would have been destroyed or altered, luckily they are preserved so people can enjoy their natural beauty for many years to come.
These greatly preserved lands allow people to see native vegetation and natural biodiversity that once was sprawling the entire countryside. From the geysers at Yellowstone to the hulking sequoias, it is an opportunity to get away from your ordinary life and see something spectacular. The appreciation gained once visiting National Parks can impact how you view the environment and what you can do for it. National Park will also have Park Rangers throughout the park for your safety as well as have programs to help educate you about the park you are at.
Hiking at National Parks is one of the best activities you can do, there is no better way of viewing and getting to know the park than to hike its trails. Not only do these trails bring you through different areas of the park they can also be great exercise. No need to be worried, there are varying skill levels and lengths of hikes at National parks. There are nice strolls that allow for true absorption into the area all the way up to skilled climbing, no matter what you are in the mood for, there is a hike for you to enjoy nature at.
Famous National Parks and Hikes
Hikes at National Parks allow for picturesque moments and breathtaking views throughout the year. The National Park Service's website has a great catalog of images and media, you are able to select the desired Park and scroll through hundreds of public domain images before seeing them yourself. You are able to see from the campgrounds all the way to the park's highest peaks. An example of A great picture available on the site is this image by NPS/ Mark Lellouch of rafting in the Grand Canyon National Park down the Colorado River. Hopefully, after checking out a number of different hikes you become inspired to visit one yourself.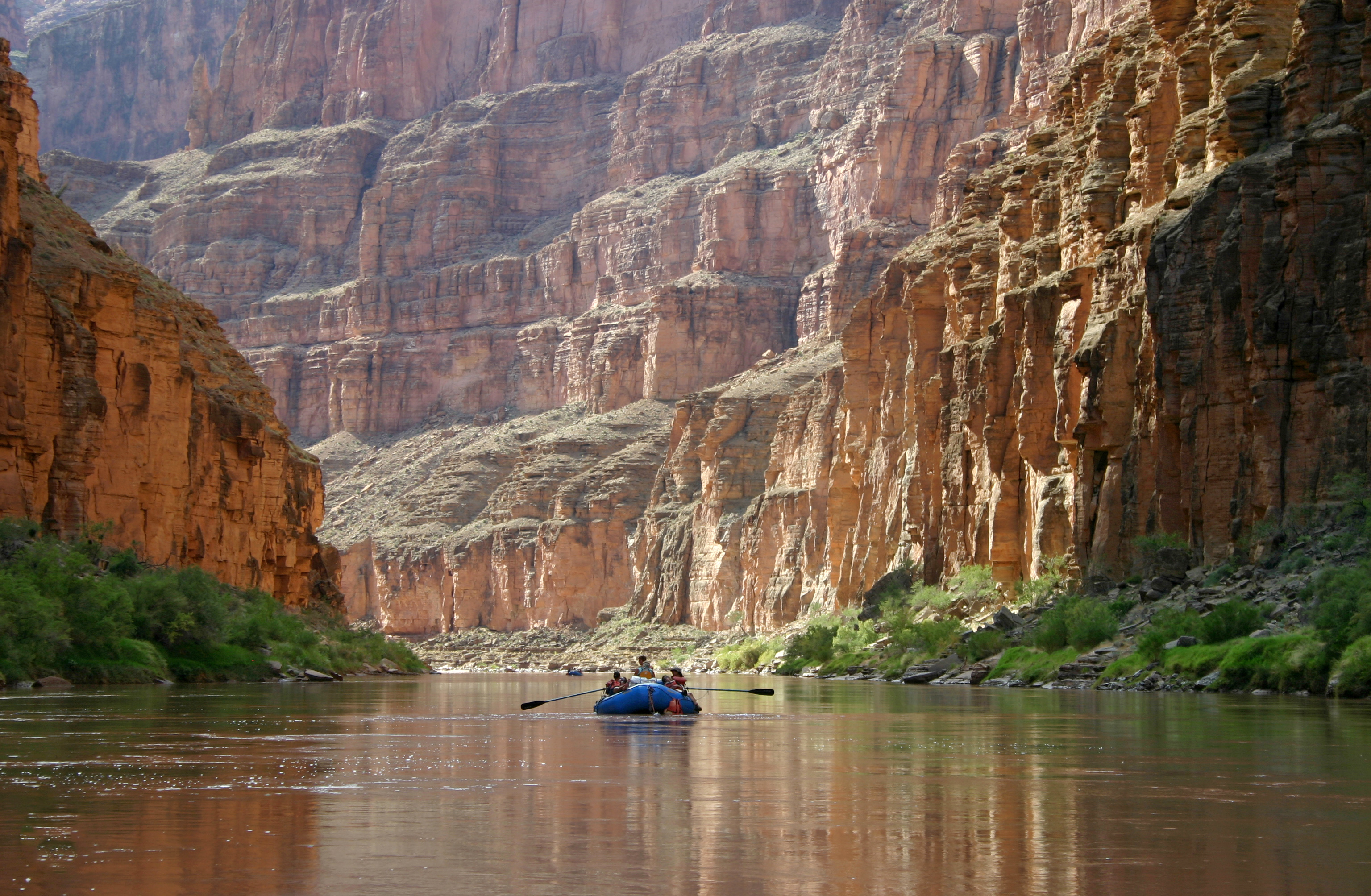 With so many National Parks to choose from it can be a daunting task to choose one to start with. Based upon National Park Service's records here are the Top 10 most visited National Parks
1) Great Smoky Mountains National Park
2) Yellowstone National Park
3) Zion National Park
4) Rocky Mountain National Park
5) Grand Teton National Park
6) Grand Canyon National Park
7) Cuyahoga Valley National Park
8) Acadia National Park
9) Olympic National Park
10) Joshua Tree National Park
In 2020 the National Park service recorded 237,064,32 recreation visits.
Some of the most famous hikes at a National Park are located in Yosemite National Park in California, hosting a famous trio of trails in Half Dome, Upper Yosemite Falls, and El Capitan. The El Capitan climb was made famous by free solo climber Alex Horanold in the documentary 'Free Solo' as seen in the trailer below.
This trio of trails could not be more of a range of skills with upper Yosemite Falls being a tedious but low skills level hike to possibly the most challenging of trails in the world. I was lucky to be able to go to Yosemite National Park in 2019 and hike Half Dome, my favorite hike to this day. Needing a reservation to be able to control the traffic at the top of the trail, where space becomes limited.
This picture was taken right before I made the ascent up the face of the Half Dome, you can see people walking up the chain and wooden plank path. While sturdy and reliable it is hard not to feel anxious going on this path it has two traffic but with space for just more than one person. The sense of accomplishment after getting to the top of a peak after a long hike is a feeling hard to achieve but is worth it.
Cheap Costs
Hiking at National Parks can be a great way to vacation and travel on a budget however you can dress your trip up or down to your likings. If you would like to travel on a budget this can be a great way to get a lot out of your dollar. An annual pass to the National Parks is only $80 per person and that gets you into all of the National Parks and its properties. No need to stay in an expensive hotel when you are able to rent a campground for approximately $30-$40 a night depending on location and season. If camping is not your thing there are other options for a more comfortable stay, there are RV reserved parking spots for you to bring your own or rent as well as hotel resorts in the park and in the surrounding areas.
These campsites include bathrooms and fire-pits so food and the equipment you bring are the only additional costs for you to stay and enjoy your time hiking at a National Park.
Equipment
One of the benefits of hiking is you can bring as much equipment and resources as you prefer. With the majority of hiking in the National Parks being able to be completed in the course of a day there are also hikes that can be extended into a multi-day hike. The longer the hike the more resources and equipment you need, if it's an hour hike you may only need a few things but if you are on a strenuous hike you will need to come prepared.
Footwear
The proper footwear can be the difference between enjoying your hike and hating it. When hiking you will want a shoe with proper cushioning and include ankle support, this is very useful especially because you will hardly be walking on flat ground. Twisting your ankle halfway up a trail will quickly end your hike and potential the rest of the trip. The proper footwear will also depend on the terrain you are hiking on, many of the trails at National Parks are open year-round so footwear will be different between the season.
Footwear required for hiking in the summer is very different than hiking in the winter. If hiking in the snow it would be smart to use spikes over your shoes for additional traction, an example of these spikes can be seen at REI here.
Reliable brand in my experience for hiking shoes have been Keen, Merrell and L.L. Bean however it is important to do your own research and find the shoe that is right for you.
Backpacks
Backpacks are very important for hiking because it houses all of the resources you will need on your trip. Your bag should include water, food, extra layers, and an emergency pack. Throughout your hike, it is necessary to remember to eat and drink while you go, if forgotten it is easy to find yourself exhausted and dehydrated. The easiest way to prevent that is to have food and water at your disposal in your bag. An even better if your bag has a water reservoir in it, the reservoir allows you to drink through a straw while you hike without stopping. The size of your bag will depend on how long you plan for your hike to take, if you are planning a hike that will be a couple of hours a school bag will provide you with the space you need however if you are planning a multi-day hike you will need space for other equipment such as a tent, sleeping bag, and stove. These types of hikes will require far greater space and often are specialized to reduce weight and maximize capaisity.
When looking for equipment websites such as REI, Patagonia and L.L. Bean are reliable resources for all of your hiking needs with professional help. Many companies also have a used equipment program that allows people to purchase good quality products at a reduced price directly from the company so the customer has peace of mind that it will be in working condition. REI and Patagonia have used equipment programs as well as many other companies. This allows for a reduction in waste for people throwing out good quality products and allows for newcomers to have a lower entry cost.
National Parks are a resource that can under appreciated if people do not take advantage of all they can offer. For a relatively low cost you can explore the many different ecosystems that they country contains all. Get out and hike!